How Kia brought together fan stories to create a fully digital UEFA Europa League Trophy Tour
The Background
Right Formula is an award-winning global sports and entertainment consultancy. Founded in 2009, the agency works with global rights holders and brands including Kia, Official Partner of the UEFA Europa League 2018-2021.
The partnership between Kia and the UEFA Europa League has seen the automotive brand engage each year with football fans during the competition period by delivering the UEFA Europa League Trophy Tour, Driven by Kia. Previous tours have visited cities across Europe and have given football fans the opportunity to see the iconic UEFA Europa League trophy and meet football legends at city-centre pop-up locations, local schools and grassroots football clubs.
The tours have also encouraged fans to donate pairs of unwanted football boots, with over 3000 pairs taken to the Za'atari refugee camp in Jordan and given to young Syrian refugees.
Right Formula has worked closely with Kia to deliver three successive tours throughout the partnership.
The Challenge
For the return of the UEFA Europa League Trophy Tour in 2021, the ongoing global pandemic meant that the physical touchpoints of previous tours in European cities were no longer an option — the Trophy Tour needed to take the next step and become fully digital.
A campaign, #LiftYourDream, was run across TikTok, Instagram,  Facebook and Twitter, inviting people around the world to share their dreams and inspire others to do the same. Fans could create their own content and share it on social media, in response to stories from Kia's Trophy Tour Ambassadors — six legends of the UEFA Europa League.
But with its audience spread across multiple regions and using varying social platforms, Kia needed a hub that could incorporate #LiftYourDream content from all sources and could act as a single focal point for the campaign.
The brand was looking for a way to build awareness of the partnership across a large audience, while still being able to access people who were not users of the main social platforms.
The best option for the campaign was to find a way to showcase everything so that no matter where the content was from it could be seen by anyone.
The Solution
UEL Trophy Tour Hub
An Imprint was integrated into a dedicated, branded microsite that ran across the campaign period. This brought together campaign content from fans, ambassadors, influencers and the brand — from TikTok, Instagram, Facebook and Twitter — into a Trophy Tour hub.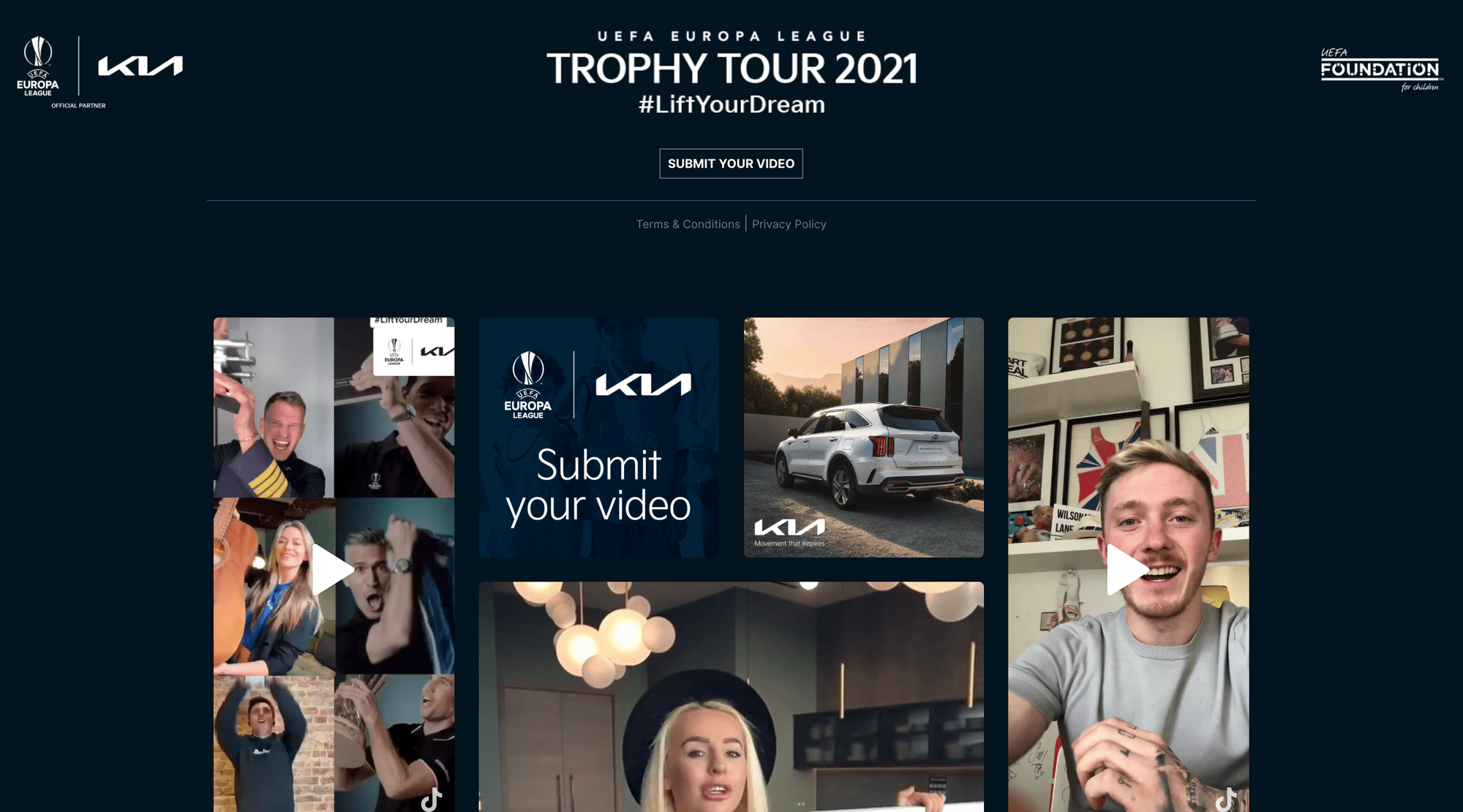 Amondo slotted in with what we were trying to achieve seamlessly — it seemed like a no-brainer as a way to centralise things.
Amondo's Brand Tile and Clickthrough Tile features enabled Kia to display branded content, direct viewers to partner destinations and highlight campaign promotions.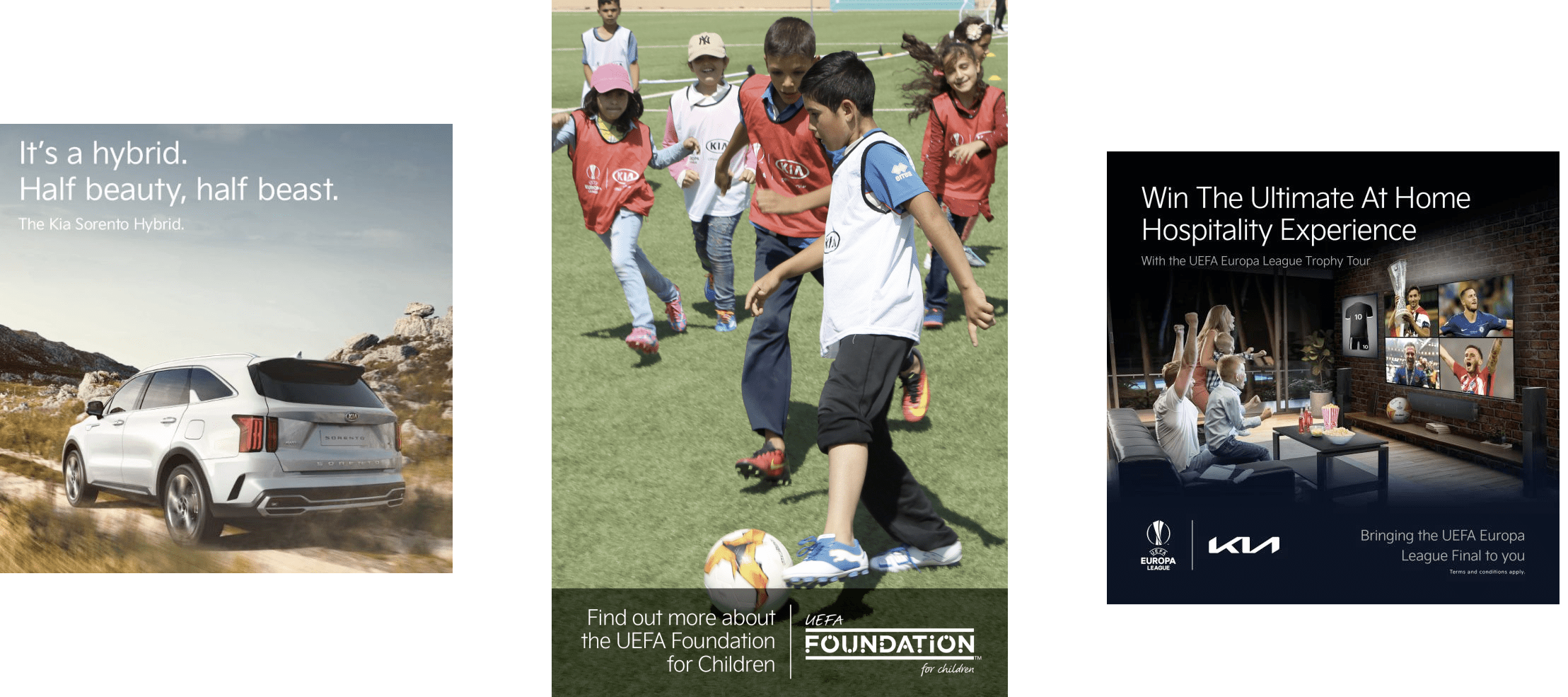 Content Submission Tile
Using Amondo's new Submission Tile feature, the Imprint also provided the facility for fans to upload their content directly to the UEL Trophy Tour hub — allowing participation in the campaign regardless of social media use, and enabling the collection of first-party data by the brand from engaged members of its audience.
The Results
Kia achieved what they set out to achieve: a broader awareness of the brand. The Amondo platform has allowed them to use social media to reach new people in new ways.
Using Amondo, Right Formula was able to create a standalone destination that hosted all aspects of the 2020/21 UEFA Europa League Trophy Tour, Driven by Kia – and transition the activation from fully physical to fully digital.
Bringing together content from disparate sources using Amondo's Imprint enabled the brand to create a highly visual platform that felt universal and applicable to all of its global markets.
The UEL Trophy Tour hub uniquely showcased the global involvement of fans in the activation and became a place to explore the story of the campaign — football fans sharing the things that inspire them.
Amondo was so simple, so easy to understand and a step forward for the UEL Trophy Tour campaign.

If you would like more information about our project with Right Formula or would like to discuss working together, drop us a line at hello@amondo.com.